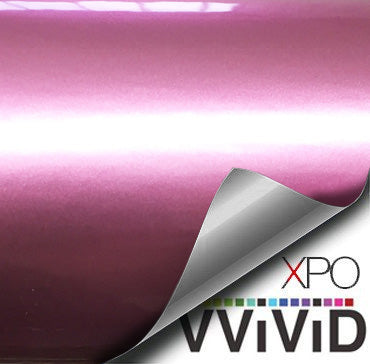 XPO Liquid Metal: Pink
Sold out
Original price
$114.00
-
Original price
$1,478.00
PRODUCT DESCRIPTION
Candy color - deep & vivid metallic color
Finish/Texture: High Gloss powder coated like / with Metal powder
Usage: Exterior & interior applications, cars, vehicles, boats, architectural.
Conformability: High
Skill level needed for installation: Low
Application Method: Dry only!
Adhesive: Air-release, repositionable, heat & time activated
Thickness: 3.9 mil / 0.099 mm
Durability: 5-7 years
More Product Info... 👇

Like a wet sanded paint job; high gloss candy paint like finish. Make it look like a $10,000 paint job!
Vinyl wrap film with air release (bubble-free) technology.
The superb quality of the glue offers complete repositionability.
Vvivid XPO films are rated to last up to 5 years externally and up to 10 years for interior applications.
Exterior application longevity depends on sun (UV) exposure and strength. The closer it is to the equator the quicker the vinyl will fade.
Colors with lots of red pigment, yellow and light green will also fade quicker than other colors.
The XPO adhesive centerpoint technology was developed to give the film easy repositionability and bubble free installation.
Ideal for vehicle applications, provides a lightweight, economical alternative to paint. Also great for architectural applications indoor & out.
Marine safe vinyl wrap film; can be used on interior and exterior parts of boats and other water crafts.
Suitable for architectural applications like kitchen cabinets, bathroom cabinets, doors, walls, desks and other furniture.
Shipped in strong, reinforced carbon box or tube (depending on roll size) to limit damage.