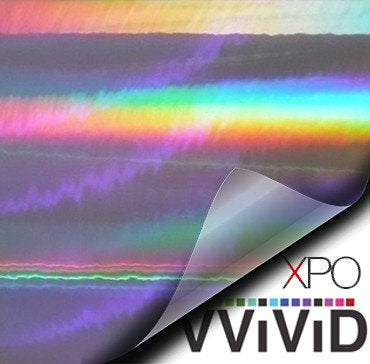 Holographic Chrome: Silver
Original price
$0.00
-
Original price
$2,779.40
PRODUCT DESCRIPTION
AKA Neo Chrome
Finish/Texture: Mirror Chrome Finish w Holographic Reflection
Protective Top Layer: Yes, remove to stretch and/or after installation.
Usage: Exterior & interior applications, cars, vehicles, boats, architectural.
Conformability: Medium
Skill level needed for installation: High/Pro.
Application Method: Dry only!
Adhesive: Air-release, repositionable, heat & time activated.
Thickness: 5.1 mil / 0.129 mm
Durability: up to 3 years
More Product Info... 👇

This vinyl imitates Neo Chrome.
100% real looking chrome finish.
Especially formulated and made for car wraps.
Mirror chrome finish, highly polished films.
Please note that this film is made with two layers. Top layer for the holographic effect and the bottom being an adhesive film. They could separate at removal. They may need to be peeled off separately if they separate at removal.
Chrome colors will fade quicker the more south you are on the northern hemisphere eg.: Southern USA (Florida, Texas, California, etc.), Mexico, Southern Europe, Middle East, Australia
Vinyl wrap film with air release (bubble-free) technology.
The superb quality of the glue offers complete repositionability.
Exterior application longevity depends on sun (UV) exposure and strength. The closer it is to the equator the quicker the vinyl will fade.
Colors with lots of red pigment, yellow and light green will also fade quicker than other colors.
The XPO adhesive centerpoint technology was developed to give the film easy repositionability and bubble free installation.
Ideal for vehicle applications, provides a lightweight, economical alternative to paint. Also great for architectural applications indoor & out.
Marine safe vinyl wrap film; can be used on interior and exterior parts of boats and other water crafts.
Suitable for architectural applications like kitchen cabinets, bathroom cabinets, doors, walls, desks and other furniture.
Shipped in strong, reinforced carbon box or tube (depending on roll size) to limit damage.