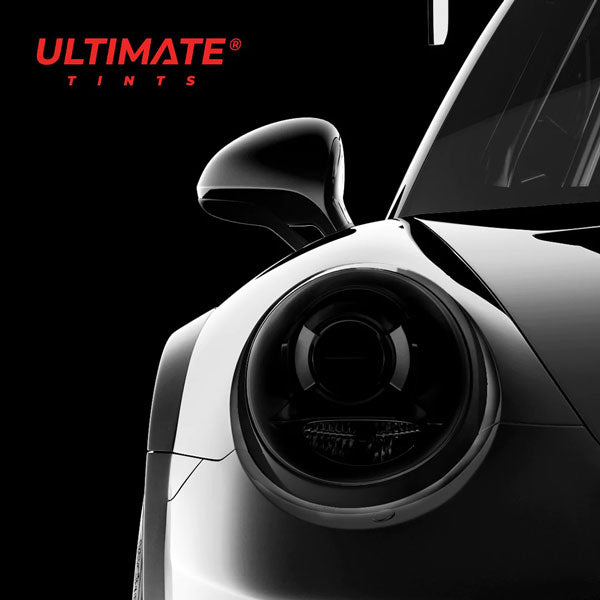 ULTIMATE® Headlight Tint: Dark Smoke
Original price
$57.20
-
Original price
$110.50
PRODUCT DESCRIPTION
No Orange Peel, as if it was painted on!
No liquids, no mess! Installs like vinyl!
Finish/Texture: Clear High Gloss Transparent
Cap: Yes! Stretchable Protective Cap.
Usage: Headlight & Taillight, exterior & interior applications, cars, vehicles, boats.
Conformability: High
Skill level needed for installation: Low
Application Method: Dry only!
Adhesive: Air-release, repositionable, Ultra-Clear® adhesive
Thickness: 4.2 mil / 0.107 mm
Durability: 5-7 years Vertical, 3-4 years Horizontal application
More Product Info & How to Install... 👇

Vvivid's Ultra-Gloss® Headlight film.
Nano air-release so fine that it vanishes when post heated, completely eliminating the orange peel effect. The result is a finish that rivals painted headlights.
Ultimate Tints comes with a protective cap which will stretch with the film as you install it.
Will bond to headlights with optically clear non-permanent glue.
*Should be stored in any temperature not exceeding 27 degree celsius. Product and liner are completely waterproof, humidity is not an issue.
Upgrading you vehicles look, protecting the headlight from physical and sun damage without significantly changing the output strength of your lights or it's color.
Especially formulated and made to tint car headlights & taillights.
Repositionable Ultra-Clear® Adhesive allows for repositioning multiple times without risk of glue lines, marring and other issues commonly found on headlight tints.
Thick & very resistant against rock chips & UV damage from sun. Scratch resistant.
This headlight tint vinyl formula reduces the risk of shrinkage and peeling almost completely.
High gloss finish and minimized orange-peel.

INSTALLATION: Step 1.

Inspect and Clean: Ensure lenses are in good condition. Inspect closely for "micro-cracks" in the lense, these are caused from minor collisions, age/wear and using the wrong aftermarket bulbs that can overheat the casing and lead to damaged lense. Micro-cracks can causing the film to bubble in certain areas. Aftermarket bulbs(excluding LED bulbs) have been known to overheat the lense also causing bubbling from gas being leached from the plastic casing. Clean the surface with a plastic-safe detergent that will remove grease, wax and other contaminants from the surface. If surface is not completely smooth to touch, use a clay bar to remove any stubborn bits that may show through the tint.

Step 2.

Measure: Ensure there is 3-6 inches of excess material around the lense for easier handling.

Step 3.

Masking Tape: Although it is not necessary, it is recommended to use a masking tape around the headlight which allows for stretch-free tucking on the edges ensuring a reliable application for years to come.

Step 4.

Finishing: Once material has been installed and cut, go over the edges with a heat gun to rid the material of any stress embedded in the film from stretching.